About the Comic
RetroBlade is a long-form Science Fantasy Comic.
It features Time Travel and symbiotic forces known as Augments.
Genres:  Science Fantasy, Adventure, Action, Comedy       Estimated Rating: PG-13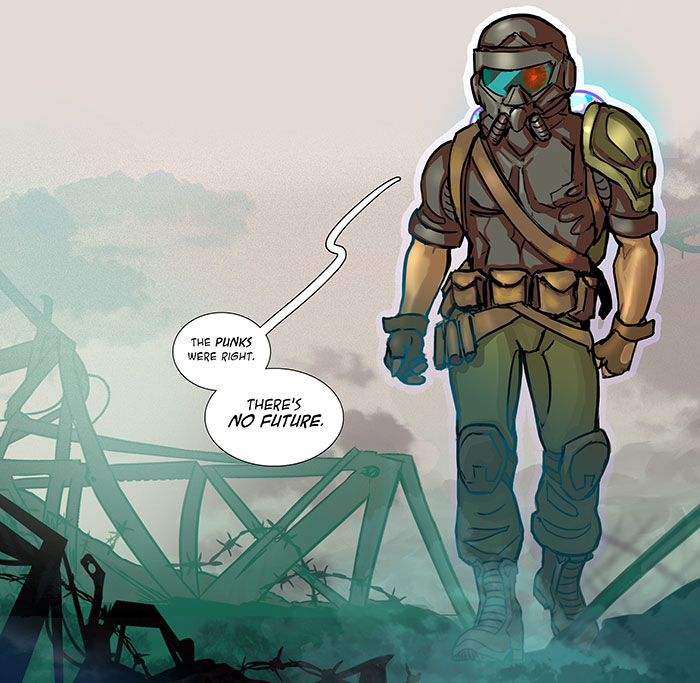 Synopsis
In the year 3007 a reality crash has wiped everything out, and the last known survivor Axel Kepler is working his way backwards through time, trying to figure out where it all went wrong.
With a severely out of touch Database, a Transmutation Device for food (that, if anything, makes molecules less edible than they were before) and only a cryptic Blueprint left by his sister to guide him, he needs help...
He needs a Team.
Together, they will find out how to fix things, who the good guys really are... and why people from the future have such cheesy haircuts.
'Meanwhile', a few millennia earlier... a young boy named Magnus is bestowed with remarkable powers he was never meant to have, and chooses not to save the world with them.
Thank goodness for rose-tinted specs...
Credits
RetroBlade is written and illustrated by Freya Horn.
Pencils / Bonus 3D: Abel Samez

Spanish Translation: Enistoja PR Help: Gemma-Marie Cox

Web Hosting & Wizardry: Will Powa
Proofreading / Feedback
Special Thanks
All our friends and family, for your encouragement,
Our Patrons, whose support keeps RetroBlade online
and especially you, our readers. Thank you. <3