WAAAAAAAAA AND that's the last page of Chapter One!!!
THE SUSPENSE
Great things are coming next, no hype or anything...
OK, maybe a little hype...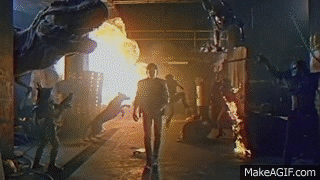 it's gonna be awesome.
☀ Summer Hiatus
BUT FIRST: There will be a summer hiatus from the main story, lasting until the 26th August.
I have TONS of stuff to do like family visits, actually taking a break if possible (pff), Kickstarter planning (see below!) and then concept art, thumb-nailing and scripting for Chapter Two.
After that, RB will be back, and better than ever.
If you really can't wait that long, Patrons will get the first pages of Chapter Two earlier than everyone else (along with early updates in general and other behind the scenes things). I'm pausing the Patreon account while I'm away, but it's definitely worth hopping on board when I get back, some seriously cool stuff is coming up. (It's worth noting that if you do pledge now you won't be charged anything until the end of August).
In the meantime, look out for some rad guest posts here- you guys are in for a treat, omg :'D
(Seriously, next week's is freakin' hilarious).

😀 I'm planning an upcoming Kickstarter Campaign for the FIRST PRINT BOOK! 😀
It will include all 66 pages of the comic so far, as well as Concept Art, Sketches and Extra Stuff, so if you're interested in getting Volume One of RetroBlade in print, this will be your chance!
There will also be backer rewards of some kind- I'm still open to suggestions there, so if you have any ideas for the types of rewards you'd like, do comment and say! All suggestions are welcome and open to consideration.
The Demon Archives:


100 years after WW3, Minerva is a lone beacon of civilization in the chaos of central Asia. Their technological superiority has guaranteed peace for their citizens and power in the area. But when that superiority is suddenly challenged, everything starts to fall apart.
Rating: Teens/PG-13 for violence.
Go check them out, say hi, tell them RetroBlade sent you v(⌒o⌒)v♪